Whether you're currently in the office, or like most of us working from home, you have probably never been more reliant on your IT equipment and infrastructure. For it to break would be a disaster. for you to have no support, a nightmare.
We usually find that businesses drop into three brackets and their IT is covered as such:
A large business with an IT department
An SME with one person responsible for IT
An SME with no IT employees
If you drop into either number 2 or 3, accessing IT Support from IT specialists could be the difference between being able to support your daily operations and staff or not.
Here's why you should choose IT Support from Affinity:
Cost Effective
More than anything outsourcing your IT is more cost effective than hiring somebody. You are buying into the expertise of Affinity and our specialists to help with what you and your business need to operate.
The tools we use to support you can be very expensive and we bring the economy of scale to you so you have access to them.

Virtual Support
You have access to our team of IT experts virtually. Whether that be via telephone, email or video call, your IT support contract means that we are here to help.
This can range from a simple call with a problem in Word or Excel, setting up emails, antivirus issues or far more complex network problems to help designed to support your office staff all the way up to your IT Manager.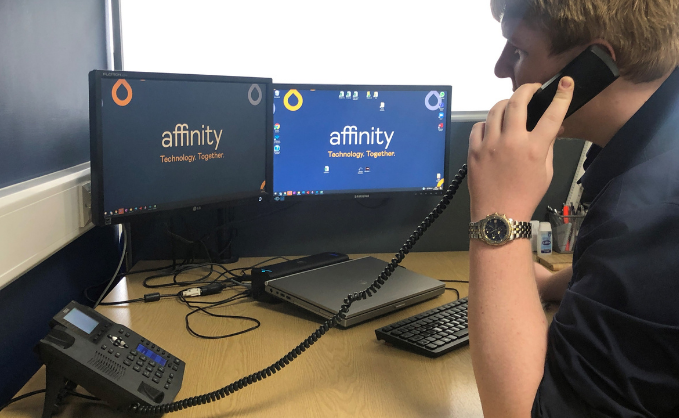 More Than Just IT Support
We're not just here for you in the bad times, we are here as your IT partner. Treat us as your IT department and tap into our knowledge! You don't need to worry about IT recruitment anymore or who is responsible for it, that's why you have appointed us!

Full IT Audit and Snagging List
Documentation is essential and we don't take it lightly. We complete a full audit upon on-boarding which also comprises of a snagging list so we can get to the root of your issues, reducing the amount of calls you make to us.

Compliance
We can give you complete visibility of your IT Fleet. Regular reports will demonstrate that all your machines are secure, up-to-date and protected with Anti-Virus. We can even keep you updated on warranty expirations and if your computer is running too hot!
Rest assured, if we find any issues, we will be straight on the case.
Focus on your business and leave the IT to us.
For more information please get in touch with us on 0114 362 7000 (option 2) or via email sales@affinityit.co.uk. Or for your Free IT Review leave your details here.